Dr. Rick Allison
Dr. Allison grew up on a dairy farm in Springtown before graduating from Texas A&M University's College of Veterinary Medicine. He is a proud Aggie and loves to talk your ear off about Aggie sports! He enjoys fly fishing and watching baseball as well as spending time with his children and grandchildren.
Dr. Jon Stowater
Dr. Jon earned his DVM from Iowa State's College of Veterinary Medicine. Dr. Stowater's passion for dairy cows is what originally brought him to Sulphur Springs. He greatly enjoys all aspects of bovine reproduction and is an avid fisherman. He also enjoys watching baseball, football, and Iowa State basketball and spending time with his family.
Lori N.
Lori has been with Cattlemen's Veterinary Services for a while now! She grew up showing and training Western Pleasure horses and loves to rodeo. Lori has two lovely daughters and two grandchildren. She always greets everyone with her luminous smile!
Brenda L.
Brenda needs no introduction! Brenda has been with Cattlemen's Veterinary Services for decades and has a remarkable son and daughter-in-law. You may also meet her partner-in-crime at the clinic, a Maltipoo named Molly. She greatly enjoys interacting with everyone that comes in and is known for her warm and friendly personality!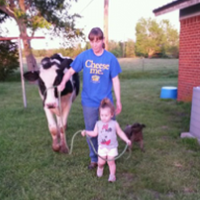 Kae M.
Kae is a Sulphur Springs native who enjoys raising cattle as well as taking care of her cats, horses and dogs. She works closely with our clients and their animals. Kae enjoys heeling on her horse named Skitz. She has an interest in livestock artificial insemination and is currently raising her own stock for breeding purposes.